DAT Green Sauce (Chimmichuri Sauce), 2 Bottles Per Box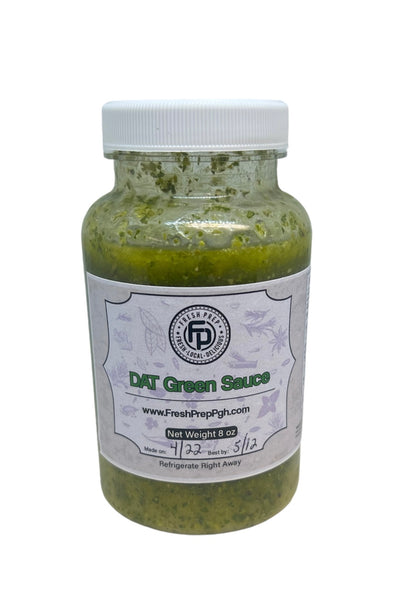 DAT Green Sauce (Chimmichuri Sauce), 2 Bottles Per Box
This is our very own Specialty Sauce! It's an assortment of olive oil and herbs blended together giving you a sauce that goes with ANYTHING!
A sauce known as Chimmichuri around the world, our customers just like to call it "Dat Green Sauce!"
Made in house with lots of organic cilantro, parsley, fresh garlic, olive oil, and last but not least LOVE!
This sauce has a long shelf life and does not need to be refrigerated, but we recommend for taste reasons. It can be frozen up to a year as well.
We recommend.. letting it sit out of the fridge 10-15 mins before using, and shake well before serving.
Comes in an 8 oz. Bottle
To make shipping more affordable, they are sold 2 bottles per box. So you will receive two 8 oz. bottles.
*If you are local, and order meals with your sauce. You will be reimbursed the $12 shipping cost. 
We Ship Anywhere In The USA
We use USPS 2-DAY PRIORITY MAIL. Your sauce is shipped frozen so you will receive your order fresh and ready to enjoy!
SHIPPING SCHEDULE:
We ship on Monday, Tuesdays, Wednesdays, and Thursdays (Depending on Destination). We DO NOT ship on Fridays or Saturdays to avoid have your precious sauce sitting in a warehouse over the weekend!
We look forward to serving you and your loved ones!